Shirai Hinako
Japanese
白井 日菜子
Rōmaji
Shirai Hinako
Age
15
Gender
Female
Height
158 cm
Weight
44 kg
Hair Color
Black (normal)
Light Brown (Reflector)
Eye Color
Brown (Normal)
Blue & Brown (Reflector)
Personal Status
School
Hoshinomiya High
Class
1-A
Interest
Ballet
Dream
To heal her leg injury and be able to dance again
Like
Ballet / Classical Music / Baths
Relatives

Yoshiko

(aunt)
Portrayal
Seiyū
Takada Yūki
Gallery
Shirai Hinako, also called Hina by some of her friends, is the main character of Blue Reflection. A year before the beginning of the main story, Hinako made it to the finals of a prestigious international ballet competition, and it seemed that the door to success stood wide open for her...until she injured her knee and was forced to withdraw.
She did not fully recover. Weighed down by the sadness of being unable to dance, she became quiet and introverted. But she never forgot the ballet lessons she took every day for ten years, and clings to hope that one day she will dance again.
Profile
Appearance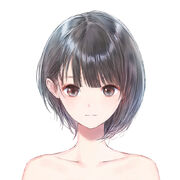 Hinako is a young woman of average height with dark brown eyes and short black hair. As a reflector her appearance is slightly altered as her hair changes to light brown and her eyes become heterochromatic in color -- her left eye being blue and her right being brown.
Personality
Hinako used to be a young girl full of spirits and passionate for ballet. After getting injured, she feels like giving up in life, doesn't want to go to school or to meet anyone.
Meeting Yuzu and Lime, and becoming a Reflector give her hope, that her leg can be healed once she defeated all the Sephira, Hinako regains her hope and also willing to help her schoolmates with their issues.
Story
Chapter 1: The First Step
Ethymology
Her surname Shirai (白井) means "white well (water source)", while her given name Hinako (日奈子) means "child of the sun apple tree".
Trivia
Hinako has an aunt named Yoshiko who is a famous designer. Yoshiko, is a friend of Shihori's mom.
Because of aunt Yoshiko, Hinako owns a matching dress with Shihori.
Hinako's house probably is located near a train station.
Hinako is also a main character in Blue Reflection Second Light. She plays an important role in this game as well.
v
·
e
·
d
DLCs

-

Gallery

-

Modding

- Translation -

Trophies and Achievements
Characters
Reflectors
Hinako - Yuzu - Lime
Hoshinomiya High
Reflectors' supporters
Ako -

Chihiro

- Fumio -

Kaori

-

Kei

-

Mao

-

Rika

- Rin -

Sanae

- Sarasa - Shihori - Yuri
Other students
Hoshinomiya High#Students
Sephira
Yesod

-

Cochma

-

Tiphereth

-

Netzach

-

Daath
Other characters
Yoshiko
Locations
Real World
Hoshinomiya

- Hoshinomiya High
The Common
Anger Zone

-

Anger and Happiness Zone

-

Common Tower

-

Fear Zone

-

Fear and Sorrow Zone

-

Happiness Zone

-

Happiness and Fear Zone

-

Sorrow Zone

-

Sorrow and Anger Zone
Terms
Common

-

Dark Cave

-

Demon

-

Ether

- Fragment -

FreeSpace!

-

Leap

-

Reflector

-

Sephira

-

Table Chat
Media
Music
Blue Reflection Official Soundtrack
"

Blue Reflection

" - "

Overdose

" - "Reflect" - "

Sayonara, waratte

"
Personnel
Developers
Kishida Mel
Seiyū